Digital Marketing
How to create GIFs and have better content engagement
Check out 6 different tools that can help you create GIFs.
If you're a Twitter user, you've probably recently seen at least one Kardashian GIF on your timeline. And haven't you ever received a good morning GIF from a family member in your WhatsApp group?
On Facebook, they have taken over the comments, making interactions between people, and between brands and consumers, even more fun; on Instagram, they are popular in the Stories.
You cannot escape from them. GIFs are everywhere and have taken over the major social media. Therefore, knowing how to create GIFs is essential for those who want to include this content format in their marketing strategy.
Easier to load than videos and with a higher rate of retention because of the loop and short duration, this format can add a lot to the engagement of your business on social media.
Would you like to learn more about this subject? If so, stay with us and check out other advantages of including GIFs in your content production, in addition to learning about 6 different tools that can be used in their creation.
Why use GIFs in your content production?
GIF stands for Graphics Interchange Format. It's a compact format of looping images.
Although they have a restricted color palette, in terms of quality, they outperform RLE, which is an older and similar format, but limited to black and white.
Very common on the web and social media, they are specially used for the creation of short animations. In general, GIF content is fun and used as memes.
Loading faster than video files, this format can be strategic to ensure that your content is viewed to the end.
This facilitates user attention retention, in addition to encouraging engagement, especially through post-sharing.
Another utility as a marketing tool is that they can boost traffic for certain videos, since depending on the platform you're using for the creation of GIFs, it's possible to include a link to the original video on YouTube.
How to create GIFs
Now that you know a bit more about the possibilities of using GIFs in your marketing strategy, check out 6 different tools that can be used in the creation of this type of file.
1. WhatsApp
The GIFs available for WhatsApp chatting are stored by Tenor. However, this favorite chatting social media makes it possible to create GIFs — in this specific case, made from videos.
You can use videos stored on your cellphone or create new ones directly on the app's camera. The recording has to be edited in up to 6 seconds.
In order to save the file, just send it directly on the chat, selecting the GIF option at the top corner of the screen.
Check out the GIF we created of our developer Gabriel here at Hotmart, by using this feature ;) 
2. GIF Me
GIF Me is a Google Chrome extension, which makes it one of the fastest and easiest ways of creating animated GIFs. After you install it on your browser, just right click on any video you find on the web.
Afterwards, you define the loop section, add tags and you're ready to share the file directly on Tumblr or Facebook.
3. IMGFLIP
One of the advantages of IMGFLIP over other tools on this list is that it allows you to upload videos from your computer to create GIFs. 
According to the platform, .mp4 and .ogg are the formats that work better with the website's player, allowing better viewing of the resulting GIF.
Other features include width, height and loop speed settings. It's also possible to create GIFs from videos hosted on YouTube through their links.
The tool can be used for free, but the files will be posted with a watermark with the name of the software. On the paid version, this watermark isn't visible.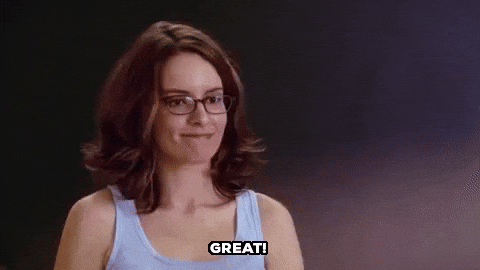 4. Giphy
Giphy can be understood as a social network for sharing GIFs and stickers, which are a specific GIF format used especially in Instagram stories.
To create a GIF on this website, just click on the GIF Maker tab and inform the video's link (that can be hosted on either YouTube or Vimeo). Then, you select a timeline, in which you can choose the start, end, and duration of the GIF's loop.
Afterwards, you can also insert texts, symbols and other elements to the file you created, which makes Giphy one of the most complete platforms for the creation of GIFs made from videos.
5. Make a GIF
Make a GIF is also an interesting option for the creation of GIFs. One of its main advantages is the possibility of starting from four different types of uploads: computer static image sequence, computer videos, YouTube link and video captured with the webcam.
The website is free and the GIFs can have a duration of up to 5 seconds. If you take the time and register, you can create animations with a duration of up to 10 seconds.
6. Photoshop
If you want to know how to create GIFs from scratch, Photoshop is a great tool to use. The first step is to create the content and select the layers to be animated.
Then, you select the "Create animation frame" option. A timeline starts and you can edit your material there.
This option is especially useful for frame-by-frame animations. Here, one of the necessary edits is the selection of the "Always" option to enable your GIF's endless loop. To finish it, you need to select the .gif format when you export the file.
Bonus: tip from our expert 
We asked our designer and GIFs expert, Patrícia Gusso, for a golden tip on the matter, and here is what she told us: 
If you preserve background transparency of your GIF when you save it, it'll be automatically transformed into a Sticker, which you'll be able to use on Instagram. Just add tags to make sure they'll be easy to find when you look for it on the GIF resource. Stay tuned to the processing time. It may take up to 2 days for your request to be approved and it appears on the Giphy website.
All you need now is to create your GIFs!
Animations are on the rise! They are a format that is compatible with the many different social networks — Twitter, Facebook, WhatsApp , and even Instagram stories. 
Therefore, knowing how to create gifs is a good strategy so you can stay relevant and  use the same language as your audience, especially younger people.
As you've seen in this article, content production in this format is far from being rocket science. 
If you don't have the skilled labor to develop something from scratch, try testing on videos hosted on YouTube and share your content in different formats.
Now that you've gotten this far, learn other tips on how to do good marketing and social media sales.